There are two things a foodie doesn't fancy when (s)he visits a restaurant:
Lounging and looking at the clock while others eat.
Eating stale, tasteless, disgusting food.
Now, no disrespect, but one should make reservations and check reviews of the restaurant before going there and waiting or ordering lousy food.
One can easily preserve their table as well as tastebuds if they just visit Onrez beforehand. If someone already visited Onrez, and for some reason got confused about how to reserve the table or check the menu & ratings, this guide will help.
The first thing about Onrez is, the Interface is super-intuitive and super-fluid. One will quickly understand the functioning of the website if he/she has been on the internet for some time. However, for those who don't, here you go.
1. Home:
The first thing to do is to visit onrez.co.uk. Once you visit the site, you will be welcomed with a no-fluff experience.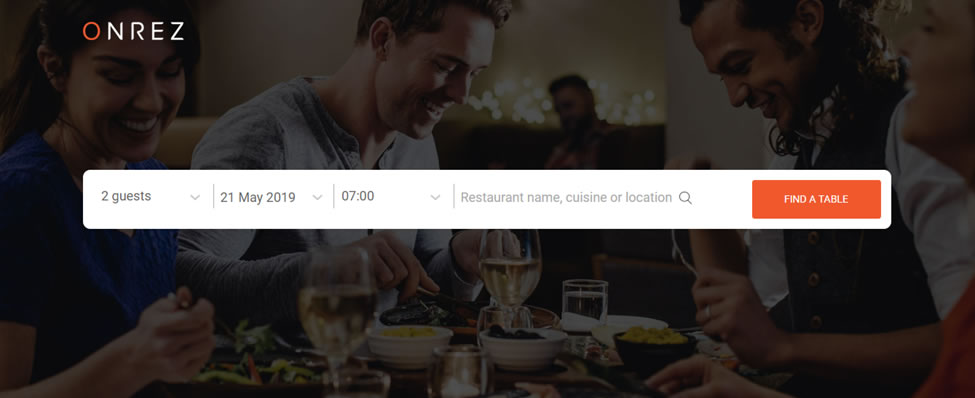 This will be the first thing you will notice when you visit the site.
From here, if you have a specific restaurant or cuisine in mind, you can book directly. Just select the number of guests, the date you want to be there on, the time you will be arriving at, and the restaurant you are interested in. Click "FIND A TABLE", and you are ready to enjoy without any hassle.
2. Categories:
If you have preferences set but not a restaurant, Onrez's this offering will help you.
On the homepage, when you scroll down, you will find several categories such as "Romantic Restaurants", "Power Business Lunches", "Vegetarian & Vegan", "Best from the East", and many others.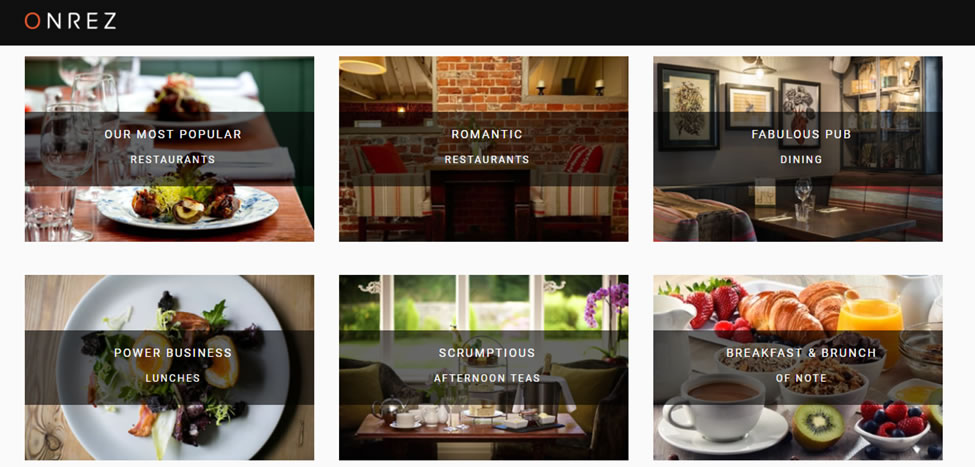 Select one of the categories and explore restaurants based on your preference.
3. Selection:
Once you select a particular category or cuisine from the search bar, you will see a list of restaurants.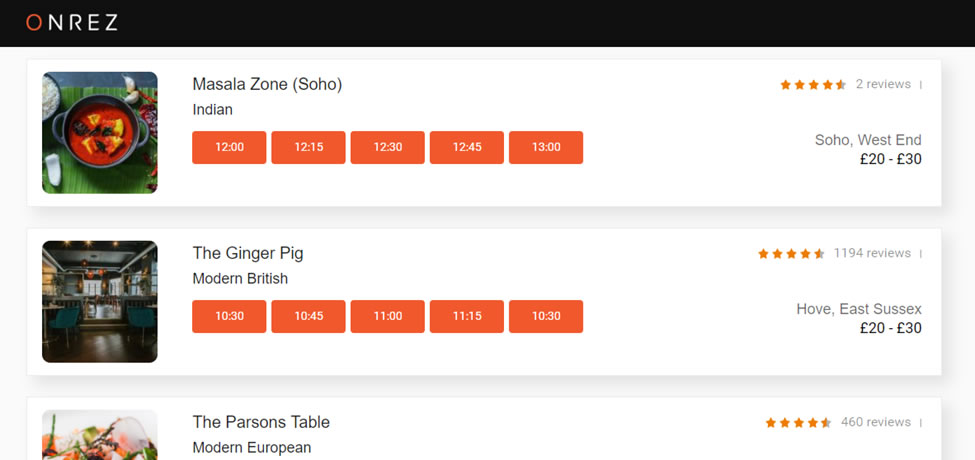 Select one with your preferred location and excellent customer reviews. This way you won't need to go a distance to get some excellent cuisines.
4. Book:
Once you have a preference set about the restaurant, click on that particular card.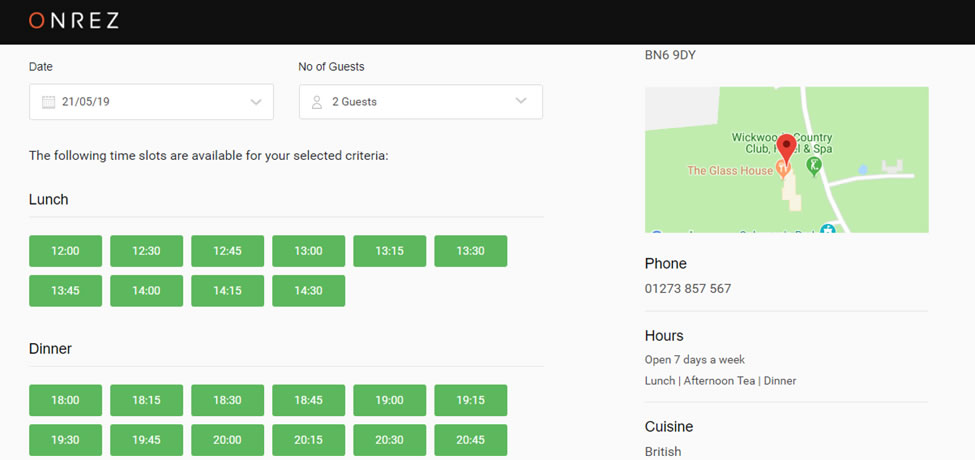 You will get to select the time, date, and the no. of guests; as it was on the homepage.
5. Fill in the details:
Once you have got everything step, it's time for the final step on the website.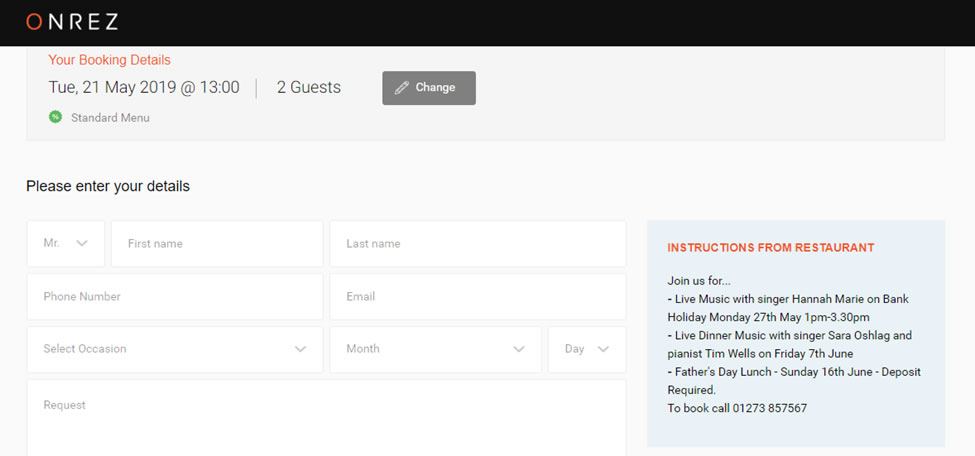 Fill in the necessary details such as your name, no., etc. to have your table ready at that time of the day. You can add special requests too-- like, if it's someone's birthday, you can ask to arrange a cake by the time you arrive.
6. Enjoy:
Finally, do the thing you were there. Enjoy the food and the moment.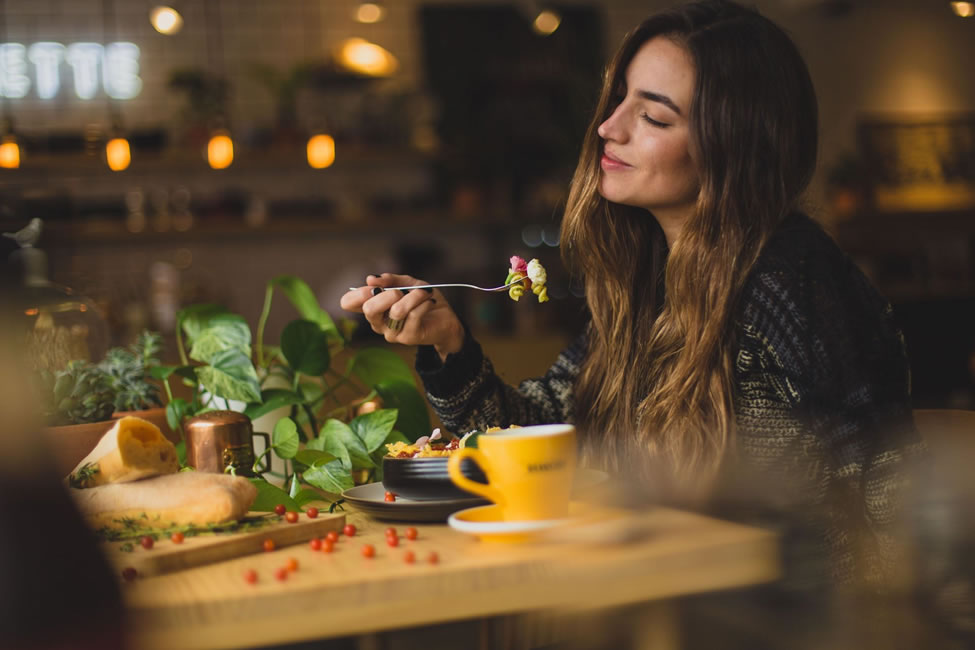 7. Leave your opinions:
Finally, it is time to pay it forward. Add your feedback about the restaurant based on your likings & dislikings.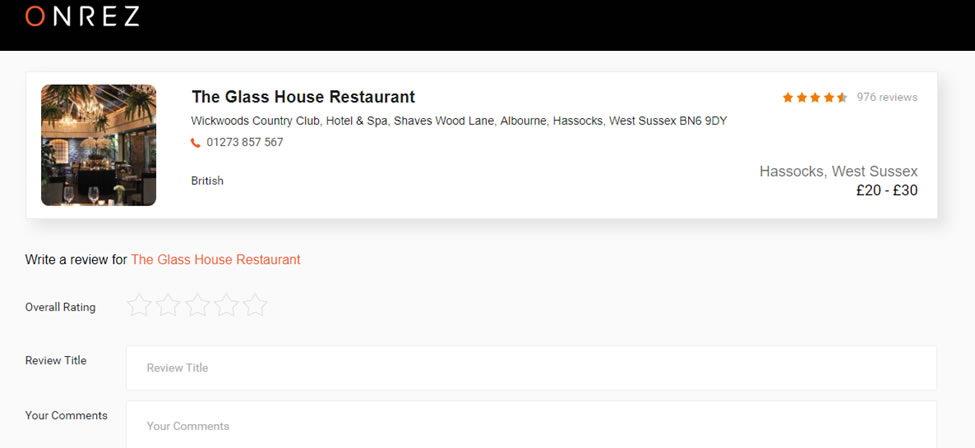 You can add your ratings based on Food, Service, Ambience, and Value. You can add additional comments as well.
That's all.
We hope you found this guide useful for your future, hassle-free restaurant reservations. Let us know if we can be of any other help.